Commercial Print Solutions
As your business partner, we offer a robust selection of production-enhancing application software solutions that allow you to expand your repertoire of services and add versatility to your equipment.
Our application solutions were developed by exceptional programming companies based around the world and offered through our partnership with Konica Minolta. They are tested and guaranteed to work seamlessly with your commercial print hardware.
Variable Data Printing
Today's professional printers are evolving. It's not enough to make great prints. Increasingly, your customers are looking to you for digital print and marketing services to help them maximize the ROI from their print jobs.
Harness the combined power of graphics with databases with Variable Data Printing software. Create unique customized postcards, letters, flyers, and business forms that increase the value of the service you provide – and your revenue.

PrintShop Mail Suite by Objectif Lune
Do your customers need better results with their targeted marketing campaigns? Create individualized pieces easily with this desktop variable data printing application.
With PrintShop Mail's user-friendly tools, you create one layout for all recipients; then, you can drag-and-drop in fields from a data source (such as an Excel spreadsheet) and easily set rules to allow you to skip pages, change the text, change images on the fly, and more. The result – each new print is unique and tailored to the recipient. Efficient technology keeps your computer from being tied up while the final job is sent to your printer.
The PrintShop Mail Web option permits implementation of a web-based central production server, so clients located anywhere may send in their jobs to you for printing and finishing.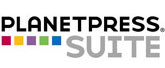 PlanetPress by Objectif Lune
Do your customers need to regularly print transactional statements, use pre-printed shells or want to add individualized promotional messages to invoices? Check out PlanetPress, an electronic forms solution. PlanetPress' modules enable easy creation and printing of transactional and transpromotional documents.
Data can be taken in from most hosts, including ODBC compliant databases, and set up to print automatically. Your electronic form template can be easily revised when updates are needed.
PlanetPress also gives you flexibility in how the final piece is distributed, including high-volume printing, faxing and emailing, and allows you to deliver pdfs for your clients' archiving requests.

DirectSmile by DirectSmile GmbH
Put some extra "wow" into your variable data with image personalization. DirectSmile integrates with PrintShop Mail to add personalized images to your finished piece. Don't just change the image, change the actual content of the image. You'll add customized text in such a way that the recipient can't tell it wasn't part of the original image – each recipient will see an image specifically created just for them.
You can design your own image sets (background image + stylized font) or purchase additional image sets from DirectSmile's catalog of more than 900 print-ready templates.
Color Imaging Tools
Perfect your desired output from your Konica Minolta bizhub PRO production color systems and bizhub PRESS digital presses to exacting standards. Through Konica Minolta's partnerships with EFI and Creo, we offer a full line of production image print controllers; software including EFI's Command Workstation, SeeQuence Suite and Color Profiler Suite; and spectrophotometer options.
Choose from external or embedded image print controllers that allow you to improve your RIPs; deliver professional color and consistency; and decrease set-up errors and costly reprints. Options are scalable to grow with your business.
Production Workflow
Busy production print environments achieve the highest efficiency and profitability with print and workflow management solutions.
MicroPress by EFI
The EFI MicroPress production workflow systems offer high performance and 64-bit digital document processing for mid-to-high production print on demand environments. The server and controller solution offers scalable models, to handle 1-12 engines. Features include full make-ready support, subset finishing and tab creation; scanning application; job split; and color split.

Printgroove by Konica Minolta
Printgroove print management software offers web-based job submission, automated job ticketing and quoting for light production printing, CRDs and small to mid-size print shop environments. You can select modules that allow your clients to input and track their jobs via the web 24/7; automate the makeready process; manage job ticketing and monitor device status in real time; and manage print queues. It can be configured to fit your workflow, handling rising traffic volume and accommodating as many printing steps and stations as your business processes demand.

For more information, please contact us at (800) 222-6265 or email us.