The Martin Story
It All Started With a Building…
In 1980, George and Dorothy Martin were looking to purchase a building in downtown Lake Geneva, WI. They found the perfect one, but with a condition. The only way the older couple who owned the building would sell it was if the Martin family also purchased the office supply business that was already in it. So, they approached their son Patrick Martin about buying the business, and Martin Office Supply was born. The new company specialized in office supplies and furniture and took in broken typewriters for repair by other vendors.
Patrick talked with his brother, Brian Martin, about the need for a local typewriter repair service. Brian attended typewriter repair school and started a new company, Martin Office Equipment, in 1985. Located in the basement of the Martin Office Supply business building, Martin Office Equipment took off quickly and soon expanded its offerings to sell Panasonic faxes. In 1990, Brian added Panasonic analog copiers to the line-up, and in 1991 the two businesses merged under the name Martin Office Supply.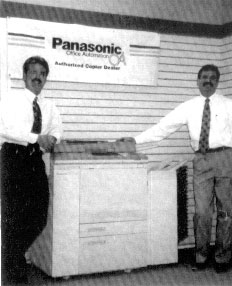 Brian and Patrick Martin at Martin Office Supply in 1993.
The new Martin Office Supply continued to grow, and in 1993 moved into a bigger building located on the north side of Lake Geneva. To emphasize the increasing role of office equipment sales and service, the company changed its name to Martin Business Group in 1996 and sold off the office supply portion of the business.
We continued our expansion by opening satellite offices in Beloit, WI; Rockford, IL; Kenosha, WI; and Madison, WI. A brand-new corporate headquarters was opened on the east side of Lake Geneva in 1998, where we are located to this day.
In 1999, a major milestone occurred with John Stensland joining the company as a third partner and co-owner (and unofficial third Martin brother). With Patrick as CEO, Brian as President, and John as Vice President, this leadership team completed our transition to a full-service office equipment service provider. In 2000, Martin Business Group became a Konica dealer and has sold that award-winning line-up of desktop printers, office console systems and production print machines for the past 11 years.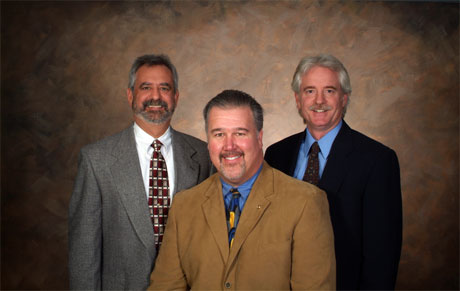 Patrick Martin, John Stensland and Brian Martin at Martin Business Group in 2007.
In 2007, the Martin brothers decided the time had come to retire. John Stensland became the sole owner and President, and renewed our commitment to the principles of exceptional client service and ethical business practices which we were founded on.
We expanded our services again with the launch of OneSource, our managed print services programs to help our clients get control over their total printing costs through all their output devices. We added a second manufacturer partner, Muratec, to offer faxes and smaller desktop systems. We also entered into a synergy relationship with OfficePro, an office supply company in Janesville, WI, offering complete one-stop support for all office needs. In support of this relationship, our Beloit office moved to Janesville, WI, in 2010.
During the 2000s, we racked up a number of major awards and accomplishments. We won our first Konica Minolta national Pro-Tech service certification award in 2006, the first year we were eligible for the program. We have repeated that win every year since. We also have been honored as a two-time recipient of the Elite Dealer award from OfficeDEALER magazine, making us one of the top 100 office equipment dealers in the United States. In 2011, we were selected as the inaugural winner of the National Elite Dealer of the Year award from The Week in Imaging. In 2011 In
We celebrated our 30th anniversary in 2010 with a new name, Martin Group, and a new tagline, driven by people , which represents both the reason why we do what we do – our family of clients – and the reason why we excel at what we do – our exceptional staff.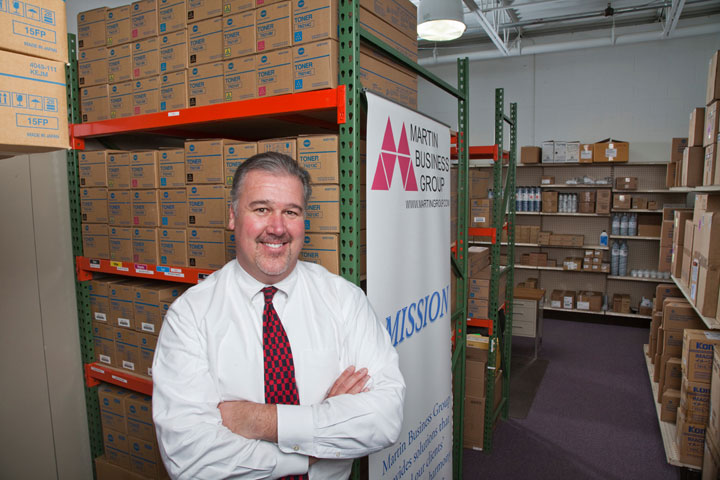 John Stensland at Martin Group's corporate headquarters, 2010.